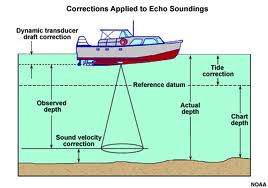 The depth of the oceans is measured in fathoms. A fathom is six ft. Scientists who study the oceans are called oceanographers. Since the deep ocean is cold and dark, we really know very little about it. Parts of the ocean floors have been seen through the eyes of deep-sea cameras, but it still amounts to very little information.
One of the things we are interested in is the depth of the ocean. Finding the depth of the water is called "sounding the depth" or "taking a sounding". In the olden days, this was done by lowering a rope with a weight attached. Later on, a very light line, usually made of piano wire, was used.
The invention of echo sounder enabled the scientists to get a better idea of what the ocean floor is like. An echo sounder uses the echoes of sound to explore the ocean floor.
On board the ship, a device sends out a sound signal. The sound travels through the water at nearly one mile a second. It is reflected or echoed, back to an instrument on the ship. The deeper the water, the longer it takes for the echo to reach the ship.
In the modern echo sounder, high-frequency sound waves are beamed down from the ship. The instrument then records the echo as a dark mark on special paper. The paper is usually printed so that the depth can be read off in fathoms right away.
The echo sounder makes it easy to find the depth of the sea. But it does much more.. It provides a much more. It provides a continuous profile, or line, showing exactly what the ocean floor is like beneath the ship. This is like having a sounding every few yards along the path of the ship. If the ship passes over an undersea mountain, the echo sounder records the exact shape of the mountain. And if the bottom is flat, the record shows it as flat. The echo sounder does not miss a bump even a few feet high.
By,
Rushalli