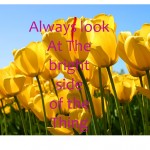 Everything has two sides – The bright and the dark, as I would wish to put it, the bright and the less bright.
A king had a dream in which he found that all his teeth had fallen out. He wanted an interpretation of the dream. A dream interpreter was sent for. He consulted the ancient book and said the king, "sir, this is a most unfortunate dream. It signifies that all your dear ones – children, wife, and relatives – will die during your life time"
The king was disappointed and ordered that the soothsayer be thrown in to prison.
Another dream – interpreter was called for. He too consulted the same ancient books and said, "O king, this is a most fortunate dream. It signifies that you will survive all your dear ones. Long live the king.
The king felt happy and richly rewarded the soothsayer. Both statements have the same meaning. But it is the way you put it or look at it that matters.
By
Rushalli