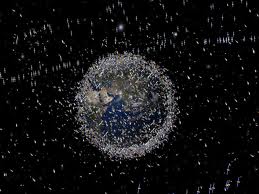 A Satellite is a small body which revolves around a planet. Satellite are of two types Natural Satellite and Artificial Satellite. The moon is a Natural Satellite of the Earth. Artificial Satellite are man-made these are deployed above the earth surface for observation. This observation from a great distance is called remote sensing. Artificial Satellites are of two types:
Sun-synchronous orbit ( polar ) satellite : These satellites follow polar orbits at a height ranging from 500-1,000 km.

Geo – synchronous (Equatorial) satellite : These satellites follow the orbits parallel  to equator, i.e. , equatorial orbits at a fixed height of about 36,000 km.
 The artificial satellites are used for:
Weather forecast,

Predication of monsoon, disaster, etc.

Communication purpose

Scientific works,

Educational purposes
Moon is the natural satellite a Natural satellite is not sent by man. It is made naturally as the planets rotate around the sun the natural satellite rotates around the planets. Every planet does not have one satellite they have many like Jupiter has 63 satellites, Saturn has   61 satellites, Uranus has 32 satellites, Neptune has 18 satellites, Pluto has 3 satellites, mars has 2 satellites, Earth is the only planet which has one satellite,  mercury and Venus  has no satellite.
By
Diya(Rushalli)