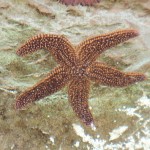 Starfish is a sea star. It is a beautiful & real animal. It just look like a star. There are verity of sizes, shapes and colours.These sea stars are belong to the phylom echinodermata. They do not have scales, fins, or gills like fish. It moves with the help of tiny tube feet (see the picture). It can regenerate their limbs and in some cases their whole body. They lives in the oceans.
Star fish weight – 5 kgs (Approximately)
Star fish – 12 – 26 centimeters
Life – about 35 years 
There are more than 1000 species of sea stars. The star fish have five arm whereas the sun stars have 30 to 40 arms. There are some other star fishes with 10, 15, 20 arms.
 By
Rushalli